Dear Friends.
Spring is finally here, and with it a lot of new and exciting projects to share. I see visons of goddesses, gardens, faerie stories and flowergories…
Join me at noon this Friday, April 1, at City Hall as I premiere a brand new, work in Dancers' Group's Rotunda Dance Series. With a costume by the singular talent, Mr. David, Beautility is a site-specific, durational solo playing with layers of symbolism that embellish City Hall's ornately beautiful rotunda. Free.
Later that night, Fauxnique performs at Some Thing for Phatima's birthday – Some Goth Thing, an art-school damaged extravaganza with surprises crawling out of the woodwork.
On Thursday April 7, I have the great honor not only of celebrating one of my favorite artists, Deborah Oropallo, and her fantastic new exhibition, Tale Spin with a performance of my own, but of talking about her work and mine with esteemed writer, critic and curator Glen Helfand. 6:30PM Gallery 16. Free.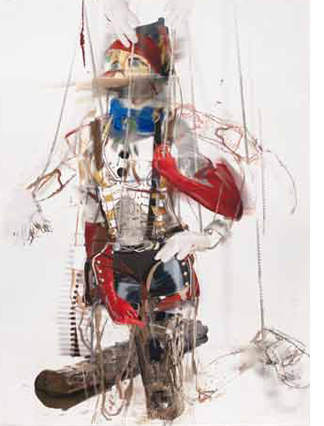 Deborah Oropallo Entangled (2011)
Friday April 15, brings the long-anticipated premiere of Devious Inc. at the Victoria Theater. The first feature film to play in her Underground Short Film Festival, Peaches Christ calls it 'Truly, one of the weirdest movies I've ever seen.' If you know Peaches, you know that is a tall order. If you like Hedwig, the Rocky Horror Picture Show, and Scooby Doo, and you want to see me try to channel Connie Marble in the role of the CEO of a fetish empire, then you will LOVE Devious, Inc.! Tickets here.
Still from Devious Inc.
And finally, it is my great honor to be included in the cast of Taylor Mac's brilliant play The Lily's Revenge at the Magic Theatre. Day two of rehearsals with the incredible Mr. Mac and the rest of the wildly talented and beautifully massive cast reveals that this is going to be THE event of the season. Absolutely not to be missed. April 21 – May 22.
I can't wait to see you out and about.
Fondly,
Monique/Fauxnique